New Pitch!
"Into the Sun" has a new pitch, developed after Mike and Paolo participated in the Apples & Oranges Theatre Accelerator program, which helps to promote new musicals. Please let us know what you think, and share the pitch with people whom you think might be interested.
Enjoy!
New Performance at Kennedy Center, Washington DC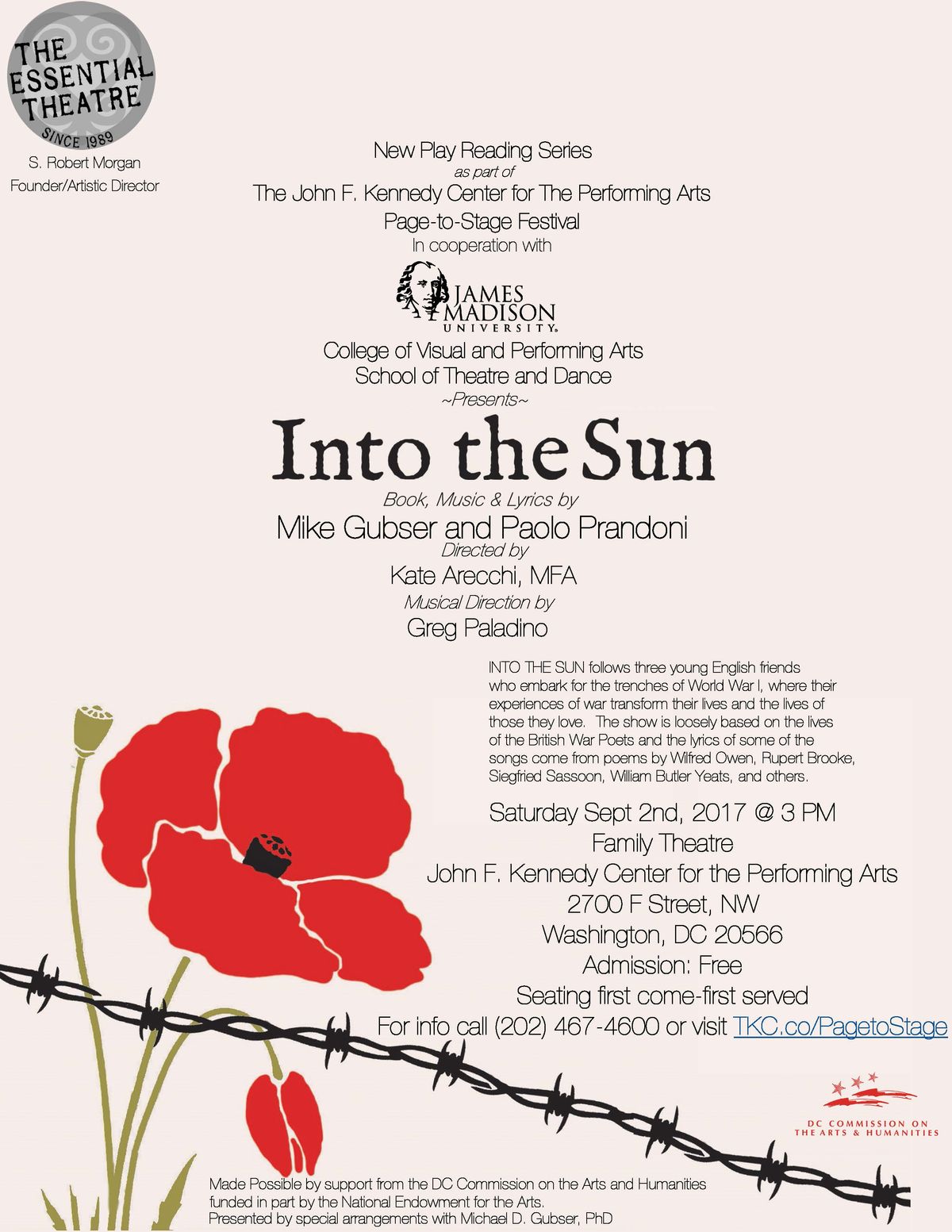 A new performance of Into the Sun will be presented Saturday, September 2nd at the John F. Kennedy Center for the Performing Arts in Washington DC by the Essential Theatre. The performance, directed by Kate Arecchi, will be part of Essential Theater's New Play Reading Series for Kennedy Center's 16th annual Page-to-Stage Festival and is made in association with James Madison University's College of Visual and Performing Arts, featuring many of its talented students.
The presentation is scheduled for Saturday, September 2nd at 3:00 PM in the Family Theatre.
Into the Sun has another run, Spring 2017
We are excited to announce that INTO THE SUN will be performed again in April 2017 at Montclair State University in New Jersey, right outside Manhattan. A workshop of INTO THE SUN starting in late March will culminate in several studio productions in April. More details to come. If you are in the NYC area next spring, come see the show! Please follow us on Facebook to learn all the details.
A new performance of Into the Sun!
We're excited to announce that INTO THE SUN will be performed at James Madison University in Virginia on the weekend of November 14-15. Details are still being finalized, but we have an exciting group of young actors and singers from the Musical Theatre program who will do two readings of the newly revised script and score. We are thrilled to see it on its feet again soon! Please follow us on Facebook to learn all the details.
Thank you!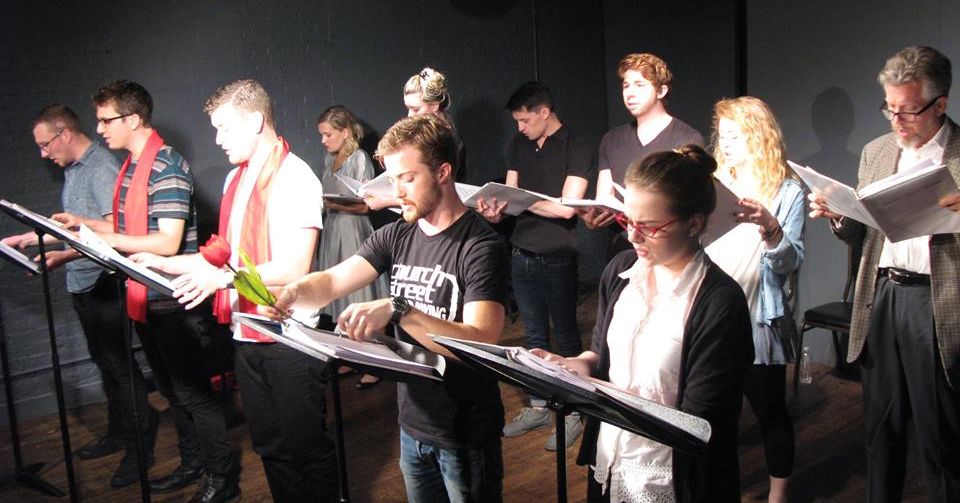 Alas, our time on Broadway (or thereabouts) has come to an end and we have returned home from NYMF. Thanks to all of our friends and supporters for helping us through this incredible experience! We managed to assemble an amazing team and we had three marvellous performances and tons of insightful feedback from the cast and the audience. In the next few weeks, as more and more feedback pours in from the audience and from the "industry" people who attended the show, we will return to the drawing board and outline the next steps for the show. For snapshots and other fun stuff, check out our Facebook page!
"World Premiere" in Lausanne ;)
On June 17, 2015, Aude Gilliéron and Joël Ingargiola performed "I'll Follow You" at the Lido in Lausanne. You can watch their performance on our Facebook page or on You Tube.
Into the Sun to debut at NYMF in July!
We are extremely proud to announce that Into the Sun has been selected by the 2015 New York Musical Theatre Festival (NYMF) to participate in its Developmental Reading Series. We will present three performances of the show on July 15 and 19 at Theatre Row, 410 W 42nd Street, New York.
Follow us on Facebook and Twitter for the latest news on the show!